Past Exhibition
EARLY CHINESE WHITE WARES
The Ronald W. Longsdorf Collection
September 11 - October 3, 2015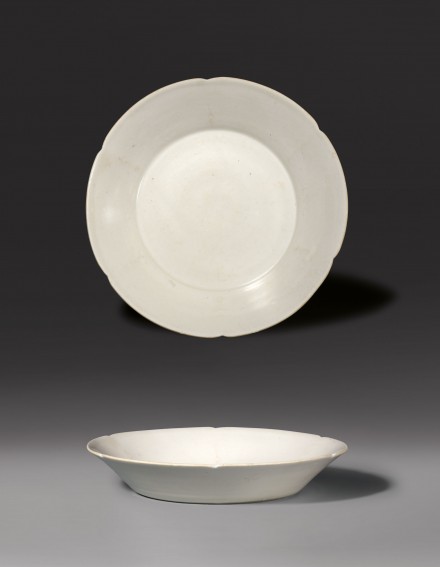 22.
A DISH WITH LOBED RIM
Northern Song Dynasty (A.D. 960-1127)
Ding kilns
thinly potted, with very gently curving flared sides rising at a wide angle from the chamfered edge of the flat base to a lipless rim divided into six lobes by shallow notches, covered inside and out and over the base with a transparent glaze of pale ivory tone, except for the edge of the mouth rim which is unglazed, revealing the white porcelain body.
Diameter 6 1⁄2 inches (16.5 cm)
A very similar white porcelain dish of slightly smaller size in the Percival David Foundation is illustrated by Lovell, Illustrated Catalogue of Ting Yao and Related White Wares in the Percival David Foundation of Chinese Art, London, 1964, pl. VIII, no. 163.
北宋 定窰白瓷葵口盤 徑 16.5 厘米
22.
A DISH WITH LOBED RIM
Northern Song Dynasty (A.D. 960-1127)
Ding kilns
Diameter 6 1⁄2 inches (16.5 cm)