Past Exhibition
Chinese Porcelain and Silver in the Song Dynasty
March 18 - April 8, 2002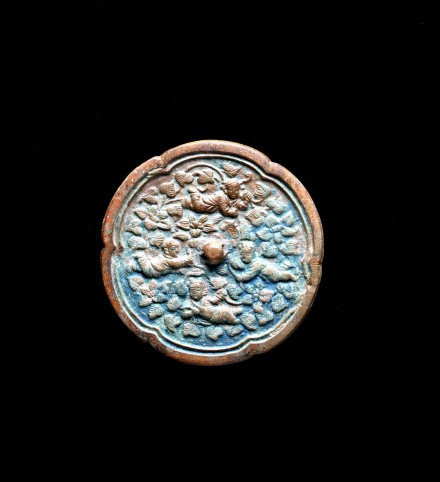 23.
A BRONZE 'BOYS AND FLOWERS' MIRROR
Song Dynasty, A.D. 11th-12th Century
cast in relief with four small boys amidst leafy floral scroll, holding onto the stems and floating with their feet kicked out behind as if swimming in the foliage, with a simple domed knop pierced through to receive a cord in the center and with a stepped hexafoil rim, the reverse plain, the surface with smooth brown patina and showing extensive bright green encrustation on both sides.
Diameter 5 1⁄2 inches (14 cm)
A line drawing of a bronze mirror of this same pattern in the Museum of Far Eastern Antiquities, Stockholm, is illustrated by Jan Wirgin in Sung Ceramic Designs, Stockholm, 1970, fig. 18b.
23.
A BRONZE 'BOYS AND FLOWERS' MIRROR
Song Dynasty, A.D. 11th-12th Century
Diameter 5 1⁄2 inches (14 cm)