Past Exhibition
Chinese Art from the Scholar's Studio
March 13 - April 11, 2015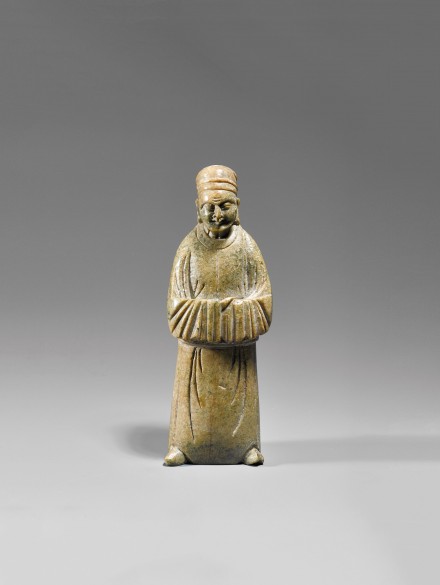 13.
AN EARLY SOAPSTONE CARVING OF A SAGE
Song Dynasty (960-1279)
the elderly man with sharp nose and pursed lips, standing erect with hands folded at his waist and concealed beneath the wide sleeves of his long robe cut with deep folds, the mottled olive-tan stone smoothly polished.
Height 6 1⁄2 inches (16.5 cm)
Three carved soapstone standing figures excavated from the tomb of Chen Yuanji at Mount Jinji, Fuzhou city, dated by epitaph to A.D. 1208, now in the collection of Fujian Provincial Museum, are illustrated in the catalogue of the special exhibition organized by the National Palace Museum, Taipei, Dynastic Renaissance, Art and Culture of the Southern Song: Antiquities, Taipei, 2010, pp. 114-115, no. II-24~26.
宋 壽山石哲人像 高 16.5 厘米
13.
AN EARLY SOAPSTONE CARVING OF A SAGE
Song Dynasty (960-1279)
Height 6 1⁄2 inches (16.5 cm)