Past Exhibition
Chinese Art from the Scholar's Studio
March 13 - April 11, 2015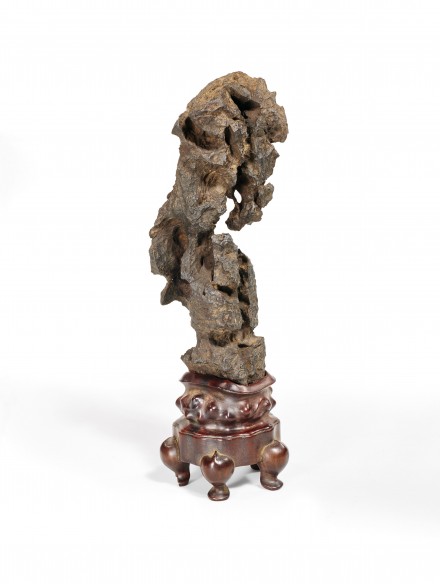 11.
A YING SCHOLAR'S ROCK
18th Century
of twisting vertical form, rising to a dramatic craggy overhang suggesting the head of a dragon, on a Jiangnan style hongmu stand.
Height 7 3⁄4 inches (19.8 cm)
Ying rocks are named after Yingde in central Guangdong province, where the earliest examples were found and harvested in caves. The "dimpled" irregular texture and glossy surfaces of Ying rocks is attributed to the action of water and many Ying rocks are said to have been formed as stalactites.
In his seminal text on Chinese scholar's rocks, Worlds Within Worlds, Harvard University, Cambridge, 1997, p. 26, Mowry notes the high opinion accorded to Ying rocks by Ming artists and aesthetes, and mentions as one example: "…Wen Zhenheng (1585-1645) ranked them second among scholars' rocks, trailing only those of Lingbi." in his treatise Zhangwu zhi (On the things of the world).
十八世紀 英石供 高 19.8 厘米
11.
A YING SCHOLAR'S ROCK
18th Century
Height 7 3⁄4 inches (19.8 cm)