Past Exhibition
Arts of Ancient China
March 27 - April 12, 2006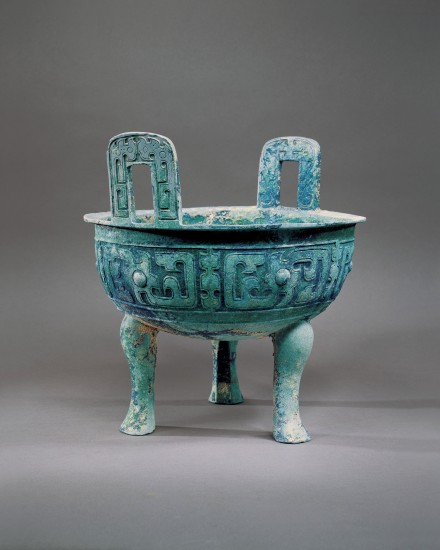 10.
A LARGE ARCHAIC BRONZE RITUAL FOOD VESSEL (DING)
Zhou Dynasty, 8th Century B.C.
the heavily cast deep bowl of almost hemispherical form, decorated on the steep sides with a broad frieze of six rounded bosses each surrounded by short hooks and a pair of extended ribbon-scroll arms rising on one side and falling on the other to form an angular whorl motif, and with vertical spacers in the form of three linked shield-shape elements between the whorls, all cast in flat shallow relief and enclosed by raised 'bowstring' borders, the wide mouth with flat everted rim bisected by a pair of large handles of inverted U-shape and rectangular section, decorated with twin ribbon-scroll motifs on the inward-facing sides and with twin angular hooked scroll motifs incorporating double 'eyes' on the outward-facing sides, the rounded base raised on three tall cabriole legs with pronounced knees and splayed feet, the corroded surface with attractive bright green and azurite blue patination all over, and with sandy encrustation on the interior.
Height to top of handles 14 1⁄8 inches (36 cm)
周 青銅鼎 寬 36 厘米 高 36 厘米
10.
A LARGE ARCHAIC BRONZE RITUAL FOOD VESSEL (DING)
Zhou Dynasty, 8th Century B.C.
Height to top of handles 14 1⁄8 inches (36 cm)